[DISPLAY_ULTIMATE_PLUS]
Cara Elorene Moore
Cara E. Moore is a Singer-Songwriter (BMI) and Vocalist with an eclectic range from folk to jazz to classical to pop. Her latest album, Driftwood Dreams features her new Single and is out soon.
For her Merry Christmas album she has done a Music Video of a Cover song from this album, Billy Joel's, He's Got A Way which is soon to be released on YouTube.  This song is available for download from Bandcamp
Cara E. Moore has qualifications in Musicianship, Songwriting, Music Production and Music Business Foundation from Berklee School of Music.  She is a Singer-Songwriter and BMI member with profiles on Reverbnation and Bandcamp and Stage 32
Music Licensing will be available soon via Songtradr. 
including cover art done by Cara E. Moore for the Kaleidoscope album is available on Cafepress.
Reverbnation Profile
She has a Facebook Group with daily themes for fans and other musicians.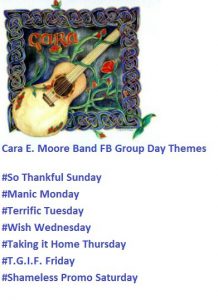 Cara E. Moore Band Facebook Page
Cara E. Moore


Promote your Page too